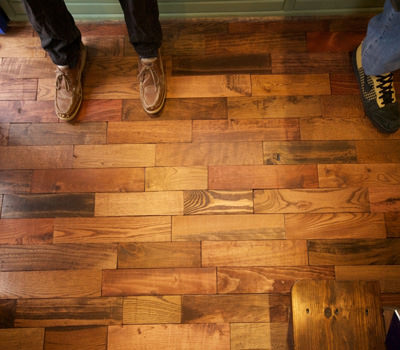 Did you know that over 300 000 tons of wooden pallets are discarded into landfills in North Carolina alone each year? Considering that the pallet industry consumes around 4.5 billion feet of hardwood annually (which is often made from expensive wood such as teak, hickory, etc.), this is a lot of potentially valuable planks going to waste. In this article, we will discuss how you can go about using pallet wood for flooring in an easy, actionable way. Let's get started by learning how locating pallets for your floors.
Great Places To Find Pallets For Your DIY Flooring Needs
When you start collecting pallets from businesses, individuals and even landfills for your floors, make sure that you get permission. Some stores will not be able to give out their pallets for free for a variety of reasons. Collecting all the pallets that you need for flooring a room or home might take awhile so it's best to consider your pallet collection as a hobby as you slowly build up your stock. Here are a few good places to start looking:
You can find pallets in most grocery stores, department stores and warehouses. Any place that receives large shipments of products on a regular basis will likely have a lot of pallets at their disposal. You can call up a couple in your local area and ask them if they have any wooden pallets that they are getting rid of. In most cases, they will tell you that they often throw them away and you can pick them up for no charge.
Small hardware stores, new businesses that just opened and small garden stores generally not have a systematic way to get rid of their pallets and will generally have no problem if you want to take them off their hands.
Landfill sites often contain large numbers of pallets that are discarded on a regular basis. While this is definitely an option, just keep in mind that it's often difficult to know where they were used before. This can pose a safety issue which I will elaborate on this a little later in this article.
You can also purchase pallets from most hardware stores. The downside of this is that this will cost you money and this might not really be worth your while, especially if you are considering doing DIY pallet flooring to save yourself some money in the first place.
PRO TIP #1
Always remember to keep the pallets in a dry place where is will not be exposed to moisture or insects. This is definitely something to consider before starting the project, you need a place to store them! Also, you need to be realistic, if you really want a
walnut floor
in your home, it would be almost impossible to expect to seek out pallets that are only made from this type of wood. Keeping this in mind, be prepared to mix and match different types of floor planks, some
made of darker hardwood
(which I love the most) and others that are much lighter.
How Much Will Pallet Flooring Cost Me?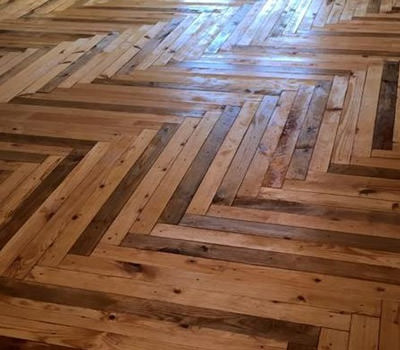 It should cost you less than around $200 for a large area, provided you were able to collect the pallets for free. Your only real costs will be your time (which is valuable and cannot be ignored), any tools that you may need to buy or hire, the underlayment (to help with moisture control) and any hardwood floor finishing that you might want to apply over the wood (highly recommended in most cases).
Considering that a decent hardwood floor (with installation) will often cost thousands, this is a very good price, even though it does require a lot of time and effort on your part. I have read countless articles on the web that profess that "time is free" but I completely disagree with that statement. An easy way to understand how much your time is worth is to figure out how much you would earn per hour if you got a second job (even if it was just temporary and was only to pay for a new floor). On the other hand, if you are excited to build a floor using pallets and it's more of a family project, then that's a different story.
How long will it take to collect all the recycled pallets? Well, that figure is definitely up for debate. If you find a large supply of fairly decent quality pallets, it could take you a weekend. If you have to search high and low for them, it could take you a couple weekends. On the other hand, if you were just looking for some spare wood to repair your broken hardwood floor, then that might just take one trip.
The Average Lifespan Of Recycled Pallet Flooring
The longevity of your floor really depends on how much foot traffic it will receive on a daily basis. However, this is nothing to be overly concerned about. Even with regular activity, provided you maintain your floors, you will only experience a very slight deterioration over time. However, wooden pallet flooring does have a unique advantage. If a section gets damaged, its super easy to replace that area with leftovers from when you built the floor! Even if you didn't have any leftovers, you could easily find more and do a DIY replacement in an hour or two. I personally feel that this is a major advantage that people often overlook when discussing this subject.
If you want to keep your floors looking great, you can also instruct family members to take off their shoes before walking on your floors and stop the dogs from running over it each day. Additionally, I highly recommend that you finish your pallet wood planks with a decent quality product (more on this a little later).
Making Sure Your Pallets Are Suitable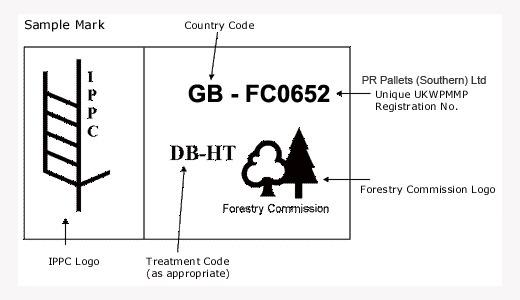 Firstly,only use wood pallets that contain an IPPC logo and avoid ones that have reference to "MB" (Methyl-bromide) or "CT" (Chemically Treated). I also recommend skipping colored pallets as they often contain formaldehyde. If you want to add color to your floors, you can always paint your wood floors afterward. Chemicals might do a great job at keeping insects and some bacteria at bay, but it's definitely not something you want in your flooring at home. Ideally, you want the pallet to contain the "HT" stamp, meaning that it was "Heat Treated".

Secondly,

find out what the pallets were being used for in the past. I would stay away from pallets that have been loaded with food products (especially meat) as this sometimes leaves dangerous bacteria (such as E. Coli, Salmonella and Listeria) on the wood itself. Remember that bacteria can even stay on the wood for weeks once the food as been removed.

Thirdly,

try and find pallets that have not been exposed to wet conditions for very long. If they have been sitting outside in the rain for weeks on end, they often start to develop fungus and you don't want that in your home either. Also try and collect pallets that contain un-warped boards of similar thickness. While it's possible to use a planer to even things out, this is an extra step that can be avoided.

I know it is possible to sand (don't forget to always use a respirator) and seal the pallet planks to make them safer for indoor use but rather take my advice and stick to pallets that are heat treated (no chemicals), sourced locally, uncolored and are not involved in the transportation of food. As a rule of thumb, if you cannot confirm that the pallet is safe, rather don't use it. I highly recommend this pallet safety article from 1001pallets, check it out when you get a chance.

PRO TIP #2

Pallets marked "KD" (kiln-dried) and "DB" (debarked) are not dangerous to your health.
Special Offer: Get Some Help With Your Pallet Floor (United States Only)
We have partnered with Networx to help our readers get affordable quotes to help with their pallet flooring project from contractors near them. Simply
How Many Pallets Should Be Collected?
A single pallet usually can be stripped (more on in the next section) to provide about two square yards (1.1 square meters) of wood planks. This is presuming that the entire pallet is in a fairly good condition as outlined in the previous section above. Once you have measured the size of the room, that will help you get an idea as to how many pallets you will need to complete your flooring project.
Methods To Break Up Pallets And Remove The Nails
Breaking up the pallets is easily one of the hardest parts of the project (besides actually finding them). You have a couple options available:
Use a claw hammer – A regular claw hammer works but may break it as it's not ideally suited for this task.
Use a crowbar (ply bar) – This is a good option (if you have one), just be careful that you don't break the planks when using it.
Use a pallet breaker – Although I haven't personally use it, Instructables has a DIY pallet breaking tool guide that looks effective for breaking pallets up.
Use a circular saw to simply cut the pallet into smaller planks, thus eliminating the need to break it up using tools. This method is super fast, but you won't get very long pieces of wood.
Removing the nails is also a very important step in stripping the wood pallets. Make sure that you pull, yank, unscrew, hack out, etc. any metal bits that may be embedded in the wood before moving on.
PRO TIP #3
If you are going to use a wood planer on the planks, I highly recommend that you use a small handheld metal detector over each one, just to ensure that you don't risk any hidden metal damaging it. Also keep an eye out for staples which can often go unnoticed.
How To Make A Floor Out Of Pallets (Preparation)
Step 1 - Prepare palletsStep 2 - SandingStep 3 - CleaningStep 4 - Remove previous floorStep 5 - Install moisture barrier
Use a circular saw (or a handheld one) to cut damaged edges off the planks (if there are any) and make sure that they all fit in the room. In order to this, it's usually necessary to saw a few in halves or quarters, simply use the measurements that you figured out earlier. If you want to run the planks through the planer (which will ensure a uniform height), this is the time to do it. If your planks are almost the same thickness, are not warped or you actually want the slightly uneven look in your home, then you don't need to do this.
Sand both sides of the planks, preferably with an electric power sander. It's necessary to sand both sides because you want a flat surface on the visible side and a smooth surface on the subfloor. If you have a few pallets that seemed a little suspect but you collected them anyways, this is your chance to get rid of any nasty things that may be sitting on the surface of the wood. Please use protection!
I always recommend that you clean the wood that you are going to use with bleach, even if it was heat treated. Mix a half gallon of bleach with 1-2 gallons of water and spray or pour it over the wood. Allow it to dry and feel free to repeat this step a couple times, just to be safe. Remember that this is
in addition
to the best practices mentioned earlier in this article (not chemically treated, etc.) and is
not
an alternative.
Purge the old floor completely. Although it is possible to install over your existing floor, I don't recommend it. You want to lay the pallet wood boards directly on concrete. This might involve removing carpets, laminate and even glue that was previously used on the floor. Spend some time getting this right because if you bottom layer is not smooth, the wooden planks from your pallets will not lie properly on the floor. Sweep and clean up properly before moving onto the next step and make sure that the surface is level in most places.
Roll out the underlayment paper (that is specifically designed for flooring) and starting from one side of the room, make your way across until you have covered the entire floor. I recommend that the underlayment paper overlaps each others a bit, just to ensure that there is no chance for moisture getting through. While staples are perfect for this, you can also use small nails to secure the paper. Also make sure that it's pulled nice and tight (from corner to corner) so that there are no creases.
How To Install Pallet Flooring Correctly (DIY)
Step 1 - Find the joistsStep 2 - Lay the planksStep 3 - Stick and nail downStep 4 - Complete the room
Presuming that you are not only using industrial strength glue/adhesive to attach the pallets, find and mark the joists throughout the floor. They are usually about 16 inches (but can vary) from each other, running across the room. The easiest way to find them is to use a stud finder or by tapping the floor with a hammer (pay attention to the sound difference). Its very important to check their direction in relation to the room because that will determine where you can lay the pallet planks. Usually, you will install the new floor at a perpendicular angle to these joists. No matter what, you will want to ensure that the nails are going through the pallet planks and into the floor joists to ensure a strong hold.
I suggest that you take a moment to lay down the boards so you can get an idea as to what they will look like. This will also give you a chance to make any last-minute adjustments to their lengths to ensure that they will fit properly in the room that you are working in. I recommend that you lay the planks in a staggered arrangement (instead of all of them lining up with each other), it just looks way better in my opinion. Lastly, don't forget to allow for a bit of wood expansion along the walls by simply leaving about 3/4 of an inch gap. Please note that this gap is between the pallet planks and the wall. You do
not
need to add spacers between each plank!
Apply a little adhesive to the bottom of your first plank (optional), position it in your starting corner (in the correct direction, in relation to the joists) and use a 3 inch floor nail (or
power-cleats
) to secure it in place. I recommend putting two at each side of the plank, depending on the width of course. This will ensure that its secured properly. If you find that the wood splits, I highly recommend that you use a drill to make a small pilot hole. Once this hole has been made, knock the nail into that and that should prevent the board from breaking under pressure. You can also hire a Pneumatic Nailer if the manual hammering is too intensive for you. They are usually fairly affordable to hire per day and can help you get the job done fast. Complete your first row and give yourself a pat on the back!
Start the next row, preferably introducing a stagger (so that each plank is not exactly aligned with each other) and secure it in place. Repeat until the entire room is complete.
Finishing Your Pallet Wood Floor (With Style)
Step 1 - Prepare the floorStep 2 - Clean the surfaceStep 3 - Apply the finish
Remove all dust and particulates from the surface of your new floors. You can use a decent broom and dustpan or simply suck up the dirt with a vacuum machine, whatever works best for you. In the end, you need to have a fairly clean working area and this is critical otherwise you will not get the result that you desire. It is probably a good idea to keep all family members and pets out the room at this point.
Brush the secured wood floors with mineral spirits using an applicator of your choice (a paint brush works well). This opens up the wood (as well as cleans it) and makes it more receptive to the finisher. Let it completely dry before proceeding to the next step. This shouldn't take longer than a couple hours, especially if you keep the windows open during this time.
Apply the finishing (check out my article on hardwood refinishing for more tips) to the wood and allow it to dry for 24 hours. The finishing part of your floor is really up to you. You can even apply a wood stain if you want a more uniform color on your floors and you can go for a full gloss or perhaps a semi-gloss finish to the wood pallet flooring. If you want the rough, rugged look, you could even leave the wood unfinished.
In conclusion, although pallet hardwood flooring may not be suitable for all rooms and homes, it is certainly worth considering as a flooring option. It provides a way to give your floor a unique and memorable look and can potentially save you a lot of money when compared to other flooring options. Provided you follow safe collection practices and are willing to spend quite a bit of time and effort (and follow the guidelines in this article), you should be very pleased with the final outcome. If you have any pallet flooring ideas, please feel free to share them with us in the comment section below.
Thanks for reading this article! Please considering sharing it with your friends and family. 🙂
Last modified:
February 8th, 2019
by
The following two tabs change content below.

Bill Reed
Hi, my name is Bill and I would like to thank you for reading this article. If you want to thank me for my time, please share this post with your friends. Comments are usually answered within 48 hours, looking forward to hearing from you.

Latest posts by Bill Reed (see all)