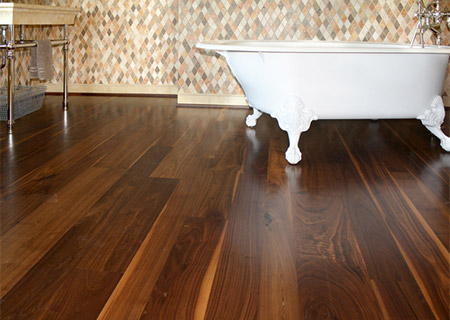 Did you know that although walnut trees were originally from Central Asia and Europe, California has one of the highest densities of this fantastic tree? Besides providing tasty food, responsibly grown walnut trees make great hardwood floors and where they fall a little short in terms of hardness, they really make up for in their gorgeous looks and how they add a certain "luxury" to your home.
If you are looking for the best guide on walnut flooring, you are in the right place. I am going to help you consider all the pros and cons, which is always beneficial, especially considering that floor replacements or installations are considered a major renovation.
Let's kick things off by having a look at the advantages and disadvantages of solid walnut floors, followed shortly by the top 6 things to consider before making a decision about this type of hardwood floor so you are completely informed.
The Main Advantages of Walnut Flooring
Besides the eye-catching look, there are quite a few bonuses to using this type of flooring in your home:

Firstly,

there are many styles and walnut wood variations to choose from. You can choose from strip (most popular), plank (widest segments) and parquet (square panels that are used to create a geometric pattern on your floor). As for the wood type, some of your options include dark black walnut flooring, Asian, Brazilian, and American walnut. I will cover the top two a little later in this article so stay tuned for that.

Secondly,

they add value to your home. Hardwood flooring is an attractive feature to prospective home-buyers. For this reason, walnut wood flooring tends to increase the value of a home. Provided you look after them, you get a better return on investment when you choose hardwood flooring over carpeting or laminate flooring. This alone is often enough to convince many people to get this type of hardwood.

Thirdly,

a solid hardwood walnut floor is fairly easy to maintain. Despite what some people may believe, hardwood flooring is actually easy to care for provided you put a little time and effort into it. For example, with proper care, your walnut floors could last for decades whereas carpeting is unlikely to last ten years without needing replacement. The same applies to a teak floor. It is just important to never neglect them, that's all.
Some Disadvantages of Walnut Hardwood Flooring
Although some of these are common hardwood concerns, here are some of the main disadvantages for choosing walnut floors in your house: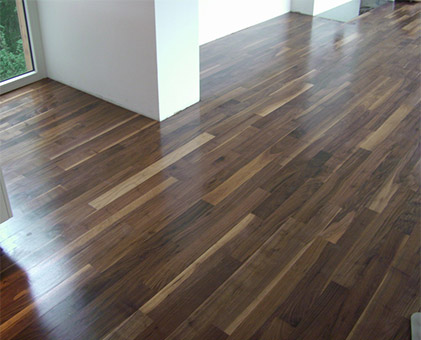 Firstly,hardwood walnut flooring can be costly in comparison to some of your other flooring options, such as laminate or carpets. The material will cost about $12 to $15 per square foot (premium quality), plus additional costs for labor. Depending on the condition of your existing flooring, sub-flooring may also need to be installed (or repaired) before the hardwood is placed. However, remember that with regular care, you may never need to replace them, which is a huge bonus.

Secondly,

since walnut is hardwood, it will need to be refinished after some time, depending on the amount of foot traffic in your home. However, please note that this cost is a fraction of the initial installation price tag and as an added bonus, it will make your floors look basically brand new after most the the scuff marks and scratches disappear.

Thirdly,

it is not sound proof, in fact, it can increase the noise levels slightly around the home. Although it does depend on the quality of the installation process (with an emphasis on the subfloor insulation), when someone walks across a hardwood floor, it is usually fairly easy to hear the footsteps (this might be a pro for some readers hehe). As a side note, you could always wear soft shoes while indoors to completely avoid this situation (and prevent potential scratch marks).

That covers the top advantage and disadvantages of this type of hardwood. We are not done just yet though, lets take a little time to review the top 6 questions that you need to ask yourself before committing and review the top two variations of walnut for your floors.
The Top 6 Considerations for Solid Walnut Flooring
Your Budget for Hardwood Walnut Floors – Your budget may limit your options and the available types of walnut that you could install. For example, certain types of Brazilian walnut tend to be more expensive than American walnut when used for flooring.
The Type of Walnut – You will need to choose between finished and unfinished walnut flooring. Prefinished walnut floors are generally more durable and longer lasting, so if you are concerned about minor impact damage, this would be a good option for you.
The Style Of Your Floors – You need to choose between strip, plank, or parquet layouts. Wide plank walnut flooring is often a popular choice as they can cover a larger area, which saves time and money during installation and looks really good.
The Species of Walnut – You could choose from American, Asian and Brazilian variations and pick the type that best suits your specific needs. Besides the prices, there are some differences in the shade and texture of the wood.
The Size of Your Floor – Before reaching out to a flooring service provider, you must know your floor size requirements. Measure the room with a tape measure and then simply multiply the length of the room by the width to get the total square footage.
Choosing the Right Contractor – Once you have gone over all your options and considered the factors described above, you should begin contacting flooring service providers. Contact several reputable contractors in your area, keeping in mind that it might be ideal to ask them to pay you a visit. Make sure that you ask for a price estimate and compare quotes once you have a few collected.
PRO TIP #1
The cost of walnut flooring can partially be recouped in the increased value that it brings to your home. So if you are planning on refinancing or selling your home, this is a very effective renovation that will give you a decent return on investment. Additionally, a good hardwood floor is one of the top features that potential homeowners look for when shopping around for a home, which will speed up the selling process.
A Quick Overview Of Three Popular Walnut Floor Species
Brazilian Walnut – These floors usually have a dark, exotic look, which looks fantastic in most homes. It has a amazing 3680psi on the Janka hardness rating score which makes it one of the strongest hardwood available on the market. However, the price comes in at a premium and you will have to find a flooring contractor who actually works with it to help you out. If you can afford it, I highly recommend it.
American Walnut – This hardwood floor has a density of around 0.60g/cm3 and is sometimes called "royal walnut" is some commercial shops. It has a hardness of about 1050psi which is fairly low in comparison to the Asian and Brazilian variations. A major bonus is that it is readily available in most flooring outlets (throughout North America), both for first time installs and potential repairs in the future, which is really awesome!
Asian Walnut (Acacia) – This floor has a density of around 0.9g/cm3 and is much harder than the American types. The Janka hardness rating sits around 2250psi, which makes this a fairly hard wood, perfect for those with lots of foot traffic and pets in their homes. Only issue is that it needs to be imported but that is not always a concern, as many local US flooring companies can do this for you.
Special Offer: Get a Free Walnut Floor Quote (United States Only)
We have partnered with Networx to help our readers get affordable walnut flooring quotations from contractors near them. Simply
In the end, I highly recommend walnut for anyone who is looking for an attractive hardwood floor. There are many types, colors and styles to choose from, which really give you a flexible choice when it comes to your budget. While it is true that there are a few disadvantages, most of them are the same for all hardwood flooring (refinishing, etc.) so don't let them put you off walnut specifically. In the end though, it really comes down to your personal preferences. My suggestion is that you take some time to look over plenty of samples to get a better sense of how this hardwood will look in your home, and if you need any help, let me know in the comment section below and I will be happy to assist you.
Last modified:
February 8th, 2019
by
The following two tabs change content below.

Bill Reed
Hi, my name is Bill and I would like to thank you for reading this article. If you want to thank me for my time, please share this post with your friends. Comments are usually answered within 48 hours, looking forward to hearing from you.

Latest posts by Bill Reed (see all)