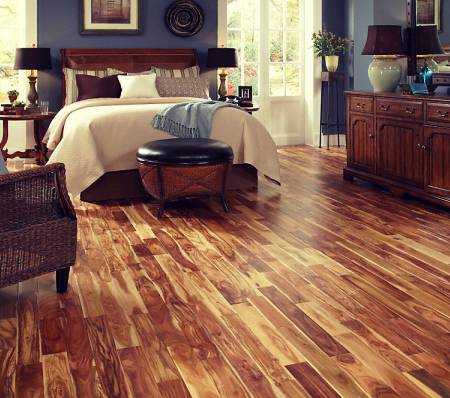 Acacia flooring is one of the lesser reviewed hardwood floor types and I am excited to show you why this is a fantastic choice for your home. Read the entire article or click one of the links below to jump to the section that interests you.
Where Does Acacia Hardwood Come From?
Acacia trees (used for hardwood flooring) are native to South East Asia and Australia, but can also be found in many other countries around the world. Acacia wood doesn't have to be harvested from pristine forests either.
According to worldwidewattle, an estimated 2 million hectares of commercial plantations are currently in use (in over 70 countries) to meet the growing demand for this beautiful hardwood species.
Is Acacia Hardwood Flooring Sustainable?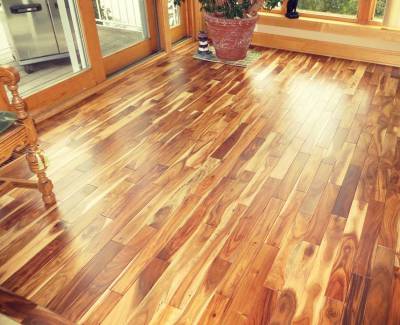 Yes, although they are classified as an exotic hardwood (like teak flooring), they are fast growing trees in their native countries (due to warmer climates) and provided harvesting is controlled (FSC certified, etc.), your choice to install this type of hardwood for your floors will not have an impact.
Additionally, if your acacia is purchased from dedicated plantations (which is very common), their yield is much higher, which means more usable hardwood and as a bonus, they are not touching our forests at all. In fact, I dare say that supporting these businesses is beneficial for our environment (for the most part).
Lastly, one of my readers made a good point that its durability also lends itself to being sustainable. Although this specific topic will be discussed in more detail shortly, it is logical to think that if the hardwood lasts longer, it won't need to be replaced soon.
What Does Acacia Wood Flooring Look Like?
Although an acacia floor will always have a luxurious brown color, the wood is known for its dynamic display of knots, vibrant hues (red, bronze, blonde, golden, etc.) and frequently swirling grain. It is worth noting that each plank usually has some degree of variance to it, which means your floor will have that too, even in the same room. This is not a problem, however, as the lack of consistency is part of what makes it special.
In saying that, you can definitely shop around and get options that are more attuned to a specific look. I personally love dark hardwood floors, so I would always try to get acacia planks that are primarily darker in appearance. You might prefer a lighter look, which is also perfectly fine. Others choose acacia for the variation, then apply a stain over it to give it a specific tone. I have even heard of a few artistic people who paint a few of the wood planks. In the end, everyone has their own personal taste when it comes to decor and the lovely thing about Acacia flooring is that it gives you a choice of styles.
If you have a look at the example images below, you will note that although there are similarities, each installation of acacia flooring looks unique. Let me know if you want more photos or pictures of this hardwood and I will organize them for the community.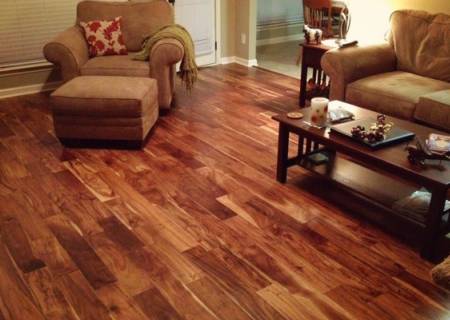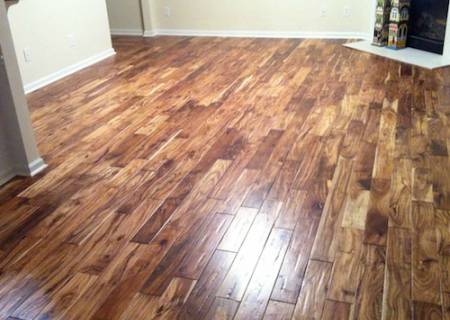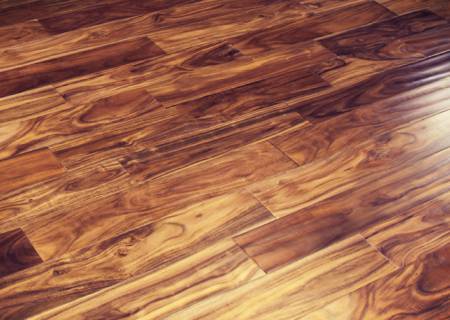 PRO TIP 1:
You often have your planks hand-scraped by the supplier (presuming they offer it). This will distress the wood and give your hardwood flooring a warmer, less rigid look. In short, it will feel more like a home than an office, which I personally prefer. You can also opt to go for a slightly wider plank, which is around 5 inches in width. Both are a personal decision, make sure you review both options.
PRO TIP 2:
You can choose to go with an acacia engineered flooring variant. It is a little more expensive (usually about 2 dollars more per square foot) but the bonus is that it rarely needs to be refinished and is fairly resistant against excessive humidity. However, only the top layer is acacia and the rest is usually higher grade plywood. Personally, if I am going to pay top dollar for quality hardwood flooring (such as acacia,
walnut wood
, oak, etc.) I would choose solid wood.
Is Acacia Wood Flooring Durable and Will It Last?
Yes, solid wood acacia is very durable. It scores 1750 on the Janka hardness scale, which makes it a very hard wood that is absolutely perfect for any flooring requirements. Here are a couple things to keep in mind: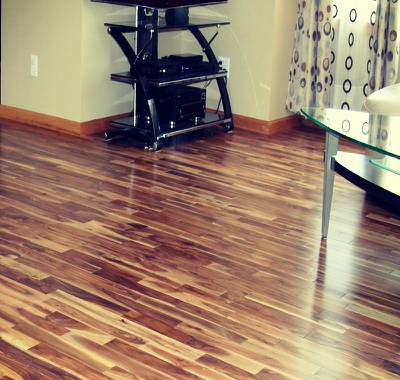 Firstly,it offers great resistance to regular foot traffic, meaning it is unlikely to be damaged if you have lots of people walking or running around the home. Although precaution is still recommended, this is great news for parents and pet owners, who might have nightmares about their beautiful, pristine acacia floors being destroyed after a couple months.

Secondly,

it has a natural water resistance, which significantly reduces the probability of swelling or warping acacia. This is especially good news for those living in a humid environment or frequently wet weather, as it will result in a sturdy floor that is not severely affected by moisture.

Thirdly,

mainly due to the points mentioned above, acacia hardwood planks often comes with a 50-year guarantee. While I cannot promise that your local flooring outlet will give you that, it should give you an idea as to how long-lasting this type of hardwood really is. You shouldn't have any issues with the longevity of acacia wood flooring.
Are There Any Long-term Problems with Acacia Flooring?
Yes, but they are not unique to acacia wood. Some issues common to most hardwood floors are:
It is not immune to heavy impact damage. Yes, acacia wood is stronger than a lot of other types, but if you drop something fairly heavy on your new floor, it will usually leave a small mark at least. This wood floor damage can be repaired but rather proactively avoid it.
If they experience heavy foot traffic for a number of years, your acacia hardwood will start to lose a little of its previous luster, especially on the finishing product. It isn't anything to worry about, though, since you can simply refinish the wood floor every 10 years or so, which will bring them back to their former glory.
You need to keep it clean. Hopefully, you are already in the habit of keeping the house nice and tidy but it is even more important when you have hardwood floors. I am not suggesting that it needs to be a daily ritual but I recommend getting a quality hardwood mop and setting up a regular routine.
Although I mentioned that acacia is fine if you have pets, please remember that a heavy dog with uncut nails will cause damage over time, no matter what hardwood you use. It is nothing to stress about, simply make sure that your dog's nails are trimmed on a regular basis and you will be fine.
In the end, despite the common problems, acacia solid hardwood flooring will last and it comes highly recommended by Pro Floor Tips.
Special Offer: Get a Free Acacia Floor Quote (United States Only)
We have partnered with Networx to help our readers get affordable acacia flooring quotations from contractors near them. Simply
How Much Will It Cost and Where Can I Get It?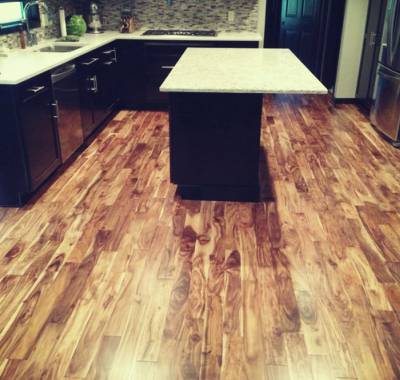 Firstly,to get the obvious out the way, the actual acacia floor planks will cost around USD 6-8 per square foot. This price can vary on a per supplier basis, with some online "direct from the factory" stores selling them for as low as $4. Just make sure that you measure out the room and purchase them from a reputable company.

Secondly,

unless you are fairly experienced in DIY projects, I recommend that you get yourself a flooring contractor to help you do the installation. If you want to do it yourself, let me know in the comment section. If there is enough demand for a guide, I will put together something for the community.

Thirdly,

depending on what floor you currently have, you will need to remove that before the acacia solid wood flooring can be installed. I do not recommend that you install it over an existing floor. Although it sometimes works out, it usually causes way too many headaches in the long run. If you find plywood under your current floor, leave that in place as it can be used as a moisture barrier.

Forthly,

you will need a decent underlayment to protect your hardwood planks. I know it is sometimes tempting to skip this (especially since it adds an additional cost) but if you do, you will be paying for it in the future when mold starts appearing under your flooring after a couple years. You have been warned!

PRO TIP 3:

Contrary to popular belief, you don't need to let your hardwood acclimate to your home. Be sure to tell your contractor if he/she suggests that the boxes of acacia planks are dropped off at your home for a couple days before the installation job. If this comes as a surprise to you, check out this article by

wagnermeters.com

about the subject, I think you will find it very interesting.

PRO TIP 4:

Buying the acacia hardwood planks ahead of time can often save you money as contractors might put a small markup on the product when they purchase it for you. However, it is worth getting a quote that includes the acacia wood, since they may be getting a discount due to their volume and business relationships with hardwood retailers.
Where Can I Install Acacia Floors?
Acacia flooring actually suits kitchens very well and is very popular. Just make sure that your oven or dish washer, etc. is not projecting excessive, direct heat or prolonged moisture at your floors and they will stand the test of time, even in this busy area. To put it simply, acacia wood looks great (and is safe to use) pretty much everywhere. Provided you love the look, it adds elegance and class to any home and I am confident you will fall in love with them.
A lot of people presume that since acacia flooring is resistant to water, that it is completely waterproof. This simply isn't the case. The natural oils in the wood protect it better than some other hardwood floor types, but I

wouldn't

recommend that you go installing it in your bathroom. The continuously high levels of moisture from steam, etc. will cause damage over time so please do not do this.
Infographic Summary – Share This With Your Friends!

Acacia Solid Hardwood Flooring Reviews
Tom from West Chester
said that he had acacia installed in his bedroom and was very happy with the end result.
Mike from Marietta
said that it added real character to his home, and was a massive improvement from the previous floor.
Lori from Germantown
said that the floor looks elegant. It is also very resistant to scratches which was a big pro.
Henry from Kansas City
said that the colors look beautiful. Battled a bit with the install (DIY) but the result looks very good.
Floor Master from Barrington
said that the floor is good and very hard, which is great for scratch resistance. Looks epic!
Mean Green from Novato
said that the wood quality is fantastic and very strong. Just use a floor nailer, not anything else.
In conclusion, this exotic wood is a highly recommended choice for my readers. It is fairly eco-friendly, it looks fantastic (provided you like the different colors), it's resilient against multiple types of damage and I feel that it's relatively affordable on the price tag spectrum. If you have acacia floors and would like me to include your review, please let me know in the comment section below. I hope that you enjoyed this guide and I encourage you to share it with your friends.
Last modified:
February 7th, 2019
by
The following two tabs change content below.

Bill Reed
Hi, my name is Bill and I would like to thank you for reading this article. If you want to thank me for my time, please share this post with your friends. Comments are usually answered within 48 hours, looking forward to hearing from you.

Latest posts by Bill Reed (see all)