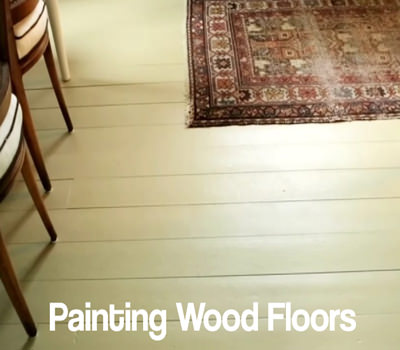 Trying to improve the appearance of your hardwood floors can often feel rather daunting, even downright scary. After all, they often cost a fortune and the thought of painting them can make most people nervous, especially if you mess it up.
But, don't despair! I will teach you how to paint your wood floors without any issues and I promise to help you every step of the way. By the end of this article, you will have the confidence (and the knowledge) to get it right the first time. Excited to learn an entire plethora of tips and tricks? So am I, so let's get this show on the road!
What Types of Hardwood Floors Can Be Painted?
Most wood floors can be painted (yes, even expensive teak flooring, if you dare). However, you shouldn't never paint directly onto a glossy finish as this usually comes out looking bad.
Your best bet is to test the wood that you wish to paint. This can be broken into three easy steps (each outlined later in more details). First, prepare a small area of the wood floor (in the corner or under a couch). Secondly, apply a small amount of paint to the wood and let it dry properly and finally, check the results (within 24 hours) and look for any cracking, peeling, streaking or bubbling. If it looks good, then you can proceed with confidence. If you do experience issues, I invite you to leave a comment at the end of this article and I will help you myself.
Why Would You Even Consider Painted Wood Floors?
For the look: Some people prefer the look over the naked hardwood look, especially if the wood has been re-stained. Paint also allows you to express your creativity by adding designs and patterns to your floor. You could also go with a simple solid color throughout. Painting allows you to add a unique look that bare wood cannot replicate.
To cover up cheap hardwood material: Even if the floors are brand new, your wood planks could be low quality (especially if you have used pallet wood for your floors) and simply not look good. You may even be considering pulling them out and replacing them. Before you do that, it's worth giving them a fresh coat of paint in a style that fits your house. You will be happy with the results.
Revive old and worn floors: Over time, your hardwood flooring will start to show its age. While this sometimes shows character, this deterioration often looks horrible. Tell-tale signs are usually visible scratches, scuffs or color loss. Even if you try repair the damaged hardwood, a coat of good paint can easily bring them back to life.
Saves you time and money: Instead of replacing the entire floor, painting wood floors is super easy on your wallet and looks great. It usually takes only a single weekend, even if you only spend a couple hours per day on the project.
What Type of Wood Paint Is Best For Your Floors?
Traditional oil-based enamel wood paint
New latex based enamel wood paint
It can withstand regular foot traffic without fading.
It is highly scratch and stain resistant.
It usually lasts longer than other forms of paint.
Requires solvents to clean up during application.
Interior use is banned in some states due to emissions.
Takes a fairly long time to dry.
Fairly eco-friendly due to minimal fumes
You can use water and soap instead of solvents
Dries a heck of a lot quicker
Not as durable as oil-based paint (rugs or mats can help with this)
Sometimes produces dull colors (although this does depend on the quality)
It's chemical formation is fairly new and time will show its effectiveness
I personally prefer oil based paints for my wood flooring projects, mainly due to its durability. Of course, if the U.S state prohibits the use of it (due to high VOC emissions), then I will use the second option. However, please don't think that you have to copy me. Both have their pros and cons and it's really your decision. When you are applying oil based wood paint, just ensure that you have plenty ventilation, wear a fume mask and let it dry sufficiently.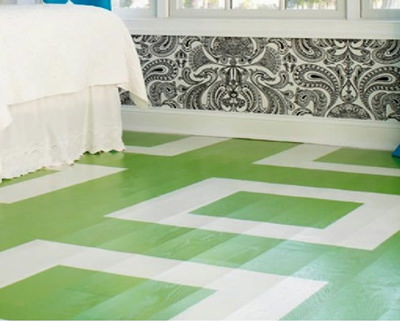 PRO TIP #1 Try get a paint that contains polyurethane. This chemical adds strength and is great for slightly humid environments. If you can't find one, you can always apply a coat of polyurethane afterwards so don't worry about it.
PRO TIP #2
Be careful of purchasing paint that's not meant for floors (especially when choosing latex paint). If it says "acrylic" on the tin, it's not a suitable choice for floors. To eliminate guesswork, choose your color and then just tell your local retailer that you plan to have painted wood floors. They are usually able to assist with specific products that work well.
PRO TIP #3
It's important to buy quality paint. The cheaper paint might look attractive, but it often compromises on the raw materials used in its formulation. Quality paint contains many activators and solids (unlike cheaper options) and will last longer. Always look for a good deal but be careful when the price is super low.
Some Popular Paint Colors and Styles For Wood Floors
While the color choice is completely up to you, check out this Pinterest board on wood painted floors for some ideas. It's important that the paint color of your wood floors match your various interior design elements. While it is possible to start over, that won't be necessary if you spend some time doing some research beforehand. This can actually be rather fun, especially if you do it with your significant other or a friend.
If you have a dark wooden floor and want to keep the natural wood look, get a paint that matches the same color to make them look brand new.
If you are feeling creative, you can add checkered designs and other patterns on your top coat of paint.
If you use vertical stripes, it can a kitchen, bedroom or even a bathroom look longer.
You can also use different colors to draw attention to specific elements in the room (such as furniture).
Diamond shapes can even make a room look larger than it actually is. The sky is the limit.

What Sheen Best Suits Painted Wood Floors?
Sheen is the reflective quality of the paint. Although most floor coatings (varnish, etc.) have a sheen value, I will keep this guide focused on colored paint. There are four levels of sheen for wood paint and each has a different reflective quality defined by the percentages below. Starting from the shiniest, they are glossy (75%), semi-gloss (55%), satin (40%) and matte (20%). House logic has a great article on this so check that out.
Special Offer: Get a Free Wood Floor Painting Quote (United States Only)
We have partnered with Networx to help our readers get affordable quotes to paint their wood floors from contractors near them. Simply
PRO TIP #4
The shiner you go, the more those little dings and scratches will show (awesome rhyme right?). While useful, don't focus too much on the percentages as they are textbook values. I suggest looking at real world examples (in person) to help you make a final decision instead of browsing through images online. Simply visit your local retailer and look at their stock, no guesswork involved.
When people ask me for my honest opinion, I usually recommend either satin or semi-gloss. I personally think that full gloss doesn't fit well in most homes and the matte/flat sheen looks a bit dull (most of the time). On that note, here are their pros and cons:
Satin: Definitely the most popular kid on the block! Satin finishes strike a good balance between reflectivity and practical day to day use. The reason why so many people love this option is because it lasts ages and little dents and scratches are not too visible. Families or people with pets also choose this paint sheen for that same reason and usually end up being happy with their floors.
Semi-gloss: While not as "shiny" as full gloss, this paint is pretty damn reflective. This is not a bad thing though, a lot of people adore the look and specifically go out of their way to buy it. It does show the dirt easily and some people suggest that you mop at least once every two days. It's also more susceptible to accidental scratches but rules like "shoes off" or "pets outside" can easily resolve this.
PRO TIP #5
I have left out "full glossy" and "matte" options because only a small percentage use it for their home. I personally feel that the high gloss looks like shiny plastic and the matte or flat sheen looks dull. That is my opinion though and I encourage you to choose what works for you.
How Much Paint Is Needed For Your Wood Floors?
The amount of paint that you will need will depend on 3 factors: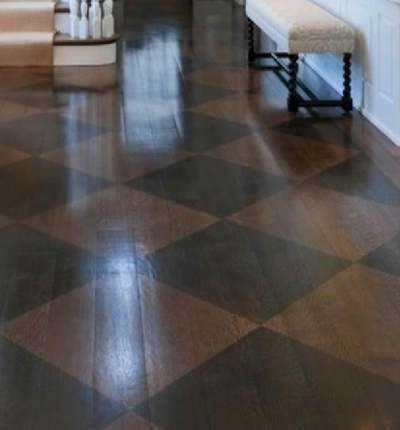 The thickness of the paint: If you are using oil-based paint, you will need a larger quantity than a thinner water-based paint. The thicker the paint, the more is needed but on a positive note, you won't need as many coats of it so it can even out in the end.
The area of the floor: If you have large rooms, the simple truth is that you will need more paint to cover them sufficiently. As a general idea, you'll need about a gallon to cover around 350 square feet for your painted wood floors so keep that in mind.
The number of coats: If you need to apply two coats, then you will need to double the amount of wood paint. If you want a third coat for some reason, then times the initial amount by three and so on.
PRO TIP #6
If you buy a high-quality paint, this can eliminate the need for a potential third coat, thus saving you money in the long run. Ask your local hardware store clerk to point out their "premium" floorboard paint and run the math. If you are unsure, just ask if it will remove the need for a second coat and they should be able to advise you.
Should You Use a Primer On Your Wooden Floors Before Painting?
There is a lot of confusion when it comes to applying a "primer" to wood floors, especially when you are using paint. Let me help you understand this clearly and hopefully you can share this with your friends.
Simply put, if your floor still has its previous coating and there is no bare wood exposed, you don't need to use a primer. On the flip side, if wear and tear that has stripped away parts of the previous finish, you need to apply the primer to these areas. This might mean that you need to prime the entire floor but don't do it unnecessarily.
PRO TIP #7
There are two main types of primer that you should use on hardwood floors – oil-based primer and latex primer. You should always match the type of primer with the type of paint you are using. Also, try matching the primer color with the finishing color that you will use. Doing this (when possible) can potentially save you the time of applying a second or third coat of paint in the end.
How to Paint the Wood Without Screwing up Your Floors
As long as you are careful, this can be a great DIY project. However, due to affordable local contractors in the U.S, sometimes it's not worth the time and effort so don't forget that Pro Floor Tips can help you request a free quote if you prefer to go that route. If you are going to try this yourself, you will need the following tools and supplies for your painted wood floors:
| | | | |
| --- | --- | --- | --- |
| Sandpaper (150 grit) | Vacuum machine | Broom | Couple rags |
| Water (or solvent) | Paint brushes | Paint rollers | Painters tape |
| Sufficient floor paint | Correct primer | Paint tray | Dust pan |