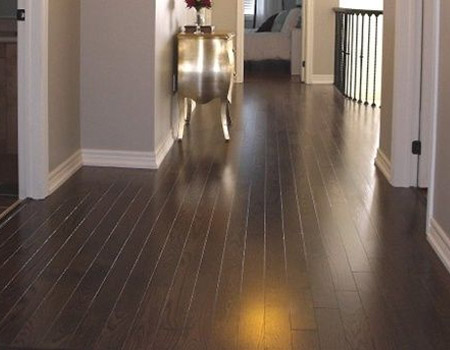 What difference does a floor make? If you have ever walked into a room with ugly linoleum or a garish carpet, you know that what's on the floor can affect your feelings about the entire room. Make the wrong choice, and it can end up leaving you feeling trapped in a particular style of floor for years to come. On the other hand, when you make the right choice, it has the potential to transform a room completely. What you put on the floor says something about who you are.
Sometimes, it can be difficult to know what kind of flooring to choose. Even if you know you want solid wood floors, you might be unsure whether to choose dark or light wood. This guide will teach you about the dark variation of hardwood floors and everything you need to know about them.
The Benefits of Installing Light Or Dark Hardwood Floors
Before choosing a dark or light tone, the first step is to consider this type of flooring in general. With so many choices available, it is essential to learn about each option and decide which type of flooring you want. Here are some of the benefits of installing hardwood for your home or office, regardless of whether you choose a light or dark color for them.
Durability – They are extremely durable and can last for years if you care for them properly. High-quality hardwood is kiln dried and treated, and requires minimal maintenance on your part. Unlike carpets, the hardwood floors can be refinished, rather than replaced, saving you money in the long run. Additionally, if cared for properly, they tend to improve in both value and appearance as time passes.
Value and affordability – Homes with hardwood floors tend to sell for higher prices than those with laminate or other types of flooring. Hardwood conveys a feeling of quality and richness that you can't get with any other floor. It used to be that hardwood flooring was only an option for people who were fairly wealthy. However, today's refined production methods allow for the availability of affordable prices for a wide range of budgets.
Space and style – Many people believe that a room with solid wood flooring looks more spacious than one with carpet or any other type of flooring. That makes hardwood a good choice for small spaces. Unlike some other kinds of flooring, hardwood never goes out of style. Wood is classic and creates a warm feeling in any room. Other flooring products may come and go, but hardwood is always popular.
Air quality and cleanliness – Sometimes, people who live in homes with carpets end up having respiratory problems as a result of inhaling carpet fibers and allergens get caught in them. Wood floors don't have these problems. Additionally, they are easier to clean than carpets and don't require the use of heavy chemicals or special equipment to keep them looking wonderful.
Special Offer: Get a Dark Wood Floor Quote (United States Only)
We have partnered with Networx to help our readers get affordable dark wood flooring quotations from contractors near them. Simply
Dark Hardwood Floors vs. Light Hardwood Floors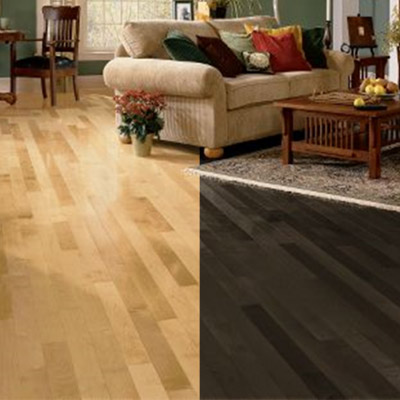 Once you have settled on a solid wood floor as the best choice, the next thing you must do is consider the color for your new floors. This will have a significant impact on the way your kitchen, living room or any other part of your house looks. The basic choice you must make is whether to opt for dark or light ones, let us have a look at both pros and cons.
Modern and elegant look – A darker hardwood floor tends to give a room a more modern and elegant look versus the light alternative. While there are many different shades on the spectrum, light hardwood was more popular in the past than it is now.
Less susceptible to fade – Darker wood floors absorb light and thus are not as susceptible to fading as light wooden floors are – meaning that they may have to be refinished less frequently than light floors.
Show the grain of the wood – Dark stains tend to show the grain of the wood more clearly than light options do, which makes dark stained wood floors very striking and beautiful – and definitely more dramatic in most homes.
Great contrast with other decor – A dark floor made of hardwood can be complemented with a wide variety of colors schemes, both on the walls of a room, in the wood trim, and in the furniture and accessories. Bright colors and light colors "pop" when contrasted with dark and usually it looks absolutely fantastic.
Scratches are slightly more visible On the flip side, scratches do tend to be more visible on dark hardwood floors than on light ones. Most of the wood used in hardwood floors has a fairly light color. That means that deep scratches may expose the pale wood underneath the finish. However, the likelihood of deep scratches occurring can be minimized by adding a scratch-proof finish and by taking care of your floors during day to day living. If your floors are a little damaged already, check out my wood floor repair article on this blog.
A little difficult to keep spotless – Dust and some kinds of dirt show up more clearly on dark wood flooring than on light ones, which is something to keep in mind if you have pets or small children. Of course, the reverse can be true if you have a pet with dark fur, which will stand out against a light hardwood floor so I suppose this applies to both options.
PRO TIP #1
Some people feel that dark wood floors make rooms look smaller than they are. While that might be the case if the entire room is decorated in dark colors, remember that by using a light colors on the walls, for the furniture, etc. can easily offset that effect.
Choosing a Finish for Your Dark Hardwood Flooring
You've decided that a dark shade of hardwood is what you want for your floors, but you're still not sure how dark you want them to be. Is there a way to strike a balance between the drama of dark floors and the cleaning benefits of light floors?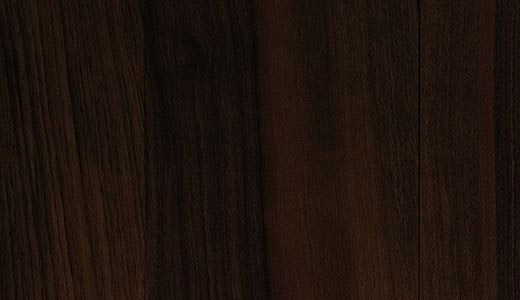 Firstly,choose a dark shade is easy to clean. The darkest stain available is usually ebony and has a tendency to show every bit of dust. Choosing a finish that is one or two shades lighter can still give you a modern and dramatic floor and help keep the dust and pet fur hidden. One color that is popular now is Jacobean, which is a bit lighter.

Secondly,

if you haven't already purchased the hardwood floor, try and choose the correct base wood to kick things off properly. Ideally, the flooring should be made of a naturally dark wood, such as maple; or choose a light wood with a dark finish. If you want a very dark stain, such as ebony, your best choices are hardwoods such as oak floors, teak hardwood flooring, a cherry floor and dark walnut floors. In saying that, there are many types of hardwoods that will work well for this (even bamboo). If you want a list of hardwoods that can be used, check out that article by BuildDirect.

Thirdly,

choose wood that is durable. If you have pets or small children, red oak makes a good choice because it is extremely hard, difficult to scratch, and very durable. That is not to say that other options are not available to you, just make sure that whatever you go with has a high "tensile strength".

Fourthly,

choose a wood color that matches your existing decor. Look at the other components of your room and, if you don't plan on changing them, decide what will look best with them. You may be able to find a tool that will let you use a picture of your existing room to visualize what it would look like with different finishes on the floor, and that can be a big help when it's time to choose a finish. Check your smartphone app store for these solutions.

In the end, the decision about which finish to choose comes down to a debate between practical and aesthetic considerations. The goal is to choose a dark hardwood finish that will give you the look you want while not requiring an excessive amount of cleaning or maintenance.
Tips for Cleaning Dark Wood Floors and Keeping Their Shine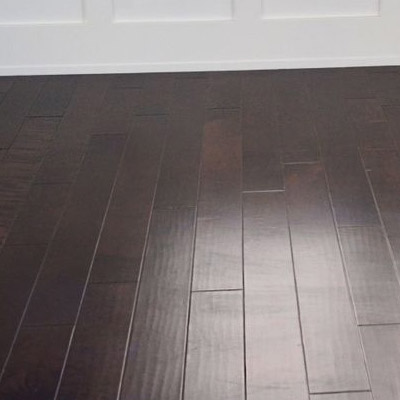 The thought of having to clean your dark wooden floors might be a worrisome one, but it doesn't have to be. On the whole, hardwood floors can be cleaned easier than carpets and rugs, and as mentioned above, they are also environmentally friendly and sustainable. Here are some tips to help you keep them looking like new.
Wear shoes or socks to minimize footprints – One thing that many people who have dark floors dislike is that bare footprints tend to show up on their floors. This problem is easily solved by making it a house rule that everyone has to wear shoes or socks inside when walking on your hardwood.
Invest in a quality vacuum cleaner – This is essential because you don't want to scratch your wood floors. After you have taken the necessary precautions (such as using the correct attachment), simply use the vacuum cleaner as you normally do.
Purchase a quality dry dust mop – This is an essential cleaning tool to have and can help you do a quick touch up when you see some dust but aren't prepared to do a full vacuum and clean.
Get a good hardwood floor cleaner – Get one that will clean and protect your dark hardwood floors at the same time. There are many good brands out there, and the manufacturer of your floor usually has a couple recommendations of suitable products so just contact them.
Create and stick to a cleaning schedule – You can probably get away with mopping once a week, if you make a point of using the dust mop every couple of days and vacuuming as needed. Perhaps the most important thing to remember about your dark hardwood flooring is that they don't have to be perfectly clean all the time. Often a quick touch-up is enough unless you've had a troop of kids with muddy shoes come traipsing through.
PRO TIP #2
Instead of using a normal mop, try and purchase one that has been made using microfibers. The last thing you want is to finish cleaning your floors and find that the mop has left light fibers behind. Microfiber won't shed and using it will help keep your floors looking shiny and wonderful.
Décor to Use with Dark Wooden Floors
One question that a lot of people have relates to what decor looks best with these types of floors. They're unsure what to do with the wood trim in their room, or which colors to use to make the most of their new floors. Here are some things to keep in mind when decorating a room with the darker variation of wood floors to ensure that everything looks fantastic.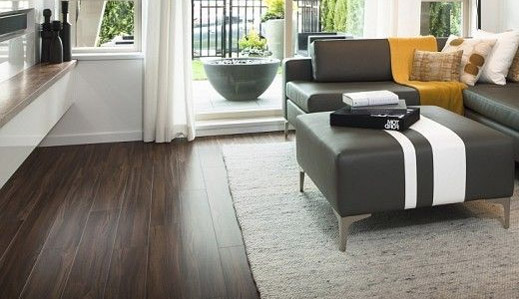 Firstly,choose furniture that is a few shades lighter than your floors. If your furniture is slightly lighter than the floors, it helps to create a harmonious look that's not too dark overall. Some people like to match the legs of furniture, such as upholstered chairs, to the floor for a unified and elegant look. If you already have light furniture (and don't want to purchase more), white walls make a good choice because they can help give the room a natural, "forest" look that can be very striking with the dark floors.

Secondly,

select the best color for your walls. If you have a very large room that you want to have a warm and cozy feel, consider choosing a dark or rich color on the walls to add warmth. Conversely, in a small room, it makes sense to paint the walls a light color to brighten the room and make it look larger than it is. Another popular design option is to combine white with a single bright color when you paint the room. The contrast between the dark wood and the bright color can be dramatic and beautiful. You can also use a decent wood floor paint if you want to get the colors just right.

Thirdly,

purchase the correct type of curtains. If you want people's eyes to be drawn to the windows, use light curtains to help frame the view and highlight the windows themselves. Dark curtains might be a good choice if like the drama of them and want to be able to block sunlight. Just make sure you have good indoor lighting to make up for the dark curtains.

Fourthly,

choose your cupboards and cabinet styles. White cabinets help offset the darkness of the wood floor and can be absolutely stunning in bedrooms or even kitchens. In fact, many homeowners swear that it is this contrast that really makes the floors look their best. Although many designers suggest cream, I personally recommend that you go with white, it just looks much better.

So in conclusion, if you are redoing a room in your house – or several rooms – dark hardwood floors make an elegant and versatile option. Even if you just look at the pictures in this article, I am sure that you can agree that they look stunning. They can increase the value of your home and provide you with multiple design options to create a striking and memorable appearance that people will love. Thank you for reading, I hope that you found this article enjoyable. If you feel I deserve it, please share this on your social media accounts as it helps me reach more people.
Last modified:
February 8th, 2019
by
The following two tabs change content below.

Bill Reed
Hi, my name is Bill and I would like to thank you for reading this article. If you want to thank me for my time, please share this post with your friends. Comments are usually answered within 48 hours, looking forward to hearing from you.

Latest posts by Bill Reed (see all)